Remodeling your home is an exciting task! You get to customize the look of your place to fit your own personal style and aesthetic. To make your remodel truly shine, it's important to not overlook the flooring. Fortunately, there are many great options that can spruce up your interior design while still being easy on the wallet– none more so than hardwood flooring.
Hardwood flooring is a classic choice for any home remodel and its advantages are undeniable. Not only does it look stunning and add some character to your home, but it also adds value to your property. Moreover, it's durable, long-lasting, and low-maintenance – making it a great option for those looking to get more out of their remodel.
From enhancing the look of your home to increasing the value of your property, hardwood flooring offers a plethora of benefits that can give your home remodel a major upgrade. Here's why:
Achieving The Perfect Look For Your Home
How To Choose The Right Hardwood Flooring For Your Home Remodel?
Are you considering a home remodel? Hardwood flooring can be the perfect finishing touch to any renovation project! Not only is it an eye-catching addition to any home, but it can also increase the value of your home and provide warmth and comfort. But with a seemingly endless array of hardwood flooring options, how do you choose the perfect one for your home remodel? Here are 7 key tips to keep in mind when selecting the best hardwood flooring for your needs:
Consider Your Budget – Hardwood flooring comes in a variety of prices, so it's essential to consider your budget before making any decisions. As a general rule of thumb, the more expensive the wood, the higher quality it will be.
Identify Your Preferred Style – Whether you prefer a traditional look or a more modern vibe, you can find the perfect hardwood flooring to match your desired style. From rustic wood with natural grain to sleek and contemporary, you have plenty of options to reflect your personal style.
Choose the Appropriate Color – The right color can help tie together all the elements in your home remodel and create an inviting atmosphere. Darker tones are great for creating a classic, cozy look while lighter shades can help make a room appear larger.
Think About Installation – Installation is a very important factor to consider when choosing your hardwood flooring. Some types of flooring require professional installation, while others can be DIY projects.
Understand Your Maintenance Requirements – Different types of hardwood floors require different maintenance.
Assess Your Lifestyle – If you have pets or small children, you may want to select a hardwood that can withstand a lot more wear and tear than other types of materials.
Look at the Warranty on the Flooring – Many manufacturers offer warranties that can range from five years up to 25 years. So this can be a great way to protect your investment.
The Effects Of Hardwood Flooring On Resale Value
When it comes to home renovations and remodeling, few decisions can have as big of an impact as the type of flooring you choose. Hardwood flooring, in particular, has long been a preferred choice for homeowners looking to upgrade the interior look of their property, but many don't realize that it can also significantly boost resale value. And here are 7 ways hardwood flooring can transform your home remodel and increase its market worth:
Aesthetic Appeal – With a variety of grain patterns, colors, and textures, hardwood flooring provides numerous aesthetic possibilities to match your home's style and interior décor design. From traditional to modern interiors, hardwood flooring is an excellent choice for adding a sense of warmth, elegance, and sophistication.
Durability – Hardwood is highly resistant to damage. With proper maintenance, hardwood floors can last a lifetime and maintain their luster.
Comfort – Hardwood floors are comfortable underfoot and create a warm, inviting living space that can increase the overall energy efficiency of your home.
Easier Maintenance – Unlike carpets, hardwood floors do not accumulate dirt, dust, or allergens, so cleaning is a breeze. Regular sweeping and mopping are all that is necessary to keep your hardwood floors looking their best.
Increased Home Value – Hardwood flooring is one of the features that are always on the checklist of most home buyers. And installing hardwood flooring in your home will increase its resale value and make your home more appealing to potential buyers.
Environmentally Friendly – Hardwood flooring is a renewable resource and can be refinished and reused for years.
Resistance to Water Damage – Hardwood is considered to be one of the most water-resistant flooring materials available. It can withstand spills and splashes without warping or discoloring as long as it is wiped up promptly.
Find out how our flooring installation services work in making your home more resalable!
Tips For Installing Hardwood Flooring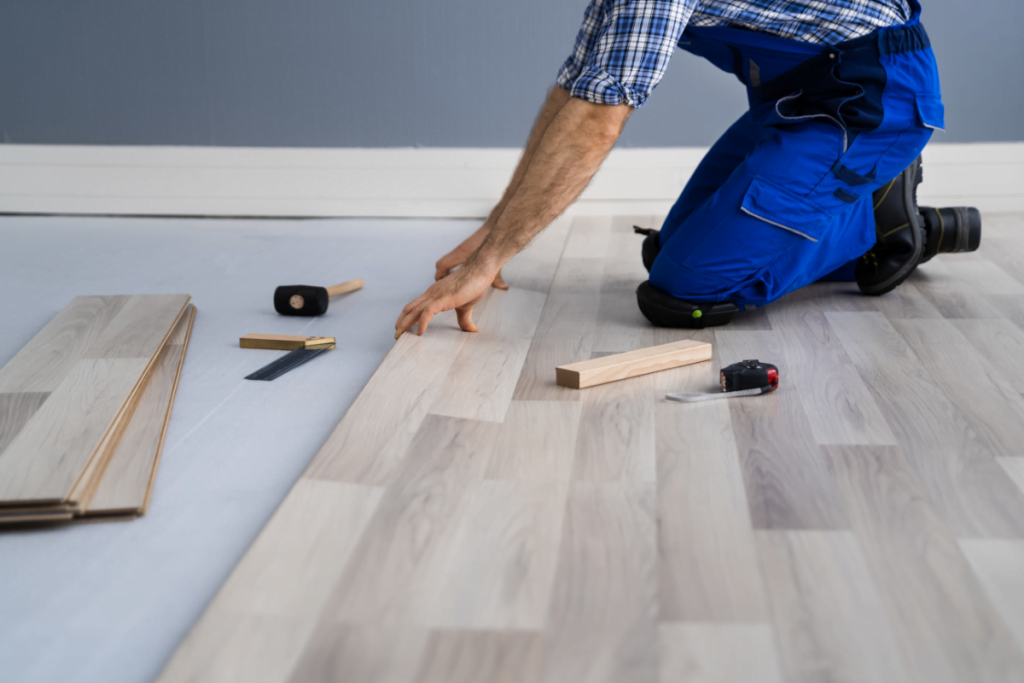 Hardwood flooring is so much more than just a simple floor covering – it can completely transform the look and feel of any space. Installing hardwood flooring correctly is essential to make sure that your investment pays off. To help you get started, here are 7 tips for a successful hardwood floor remodel:
Research – Before you begin your hardwood flooring installation, it's important to conduct your research to make sure you're getting the right type and style of flooring for your home. Consider the type of wood and finish, as well as the cost, required maintenance, and potential lifespan.
Measure – Take precise measurements before you purchase and install your hardwood flooring to ensure that there are no surprises down the line. It's also important to remember to factor in other elements like moldings or transitions.
Prepare – Make sure the area is clear of furniture and other clutter before you begin the installation process. This will make the process quicker and easier, and give you the results you want.
Use the Right Materials – When it comes to hardwood flooring installations, using the right materials makes all the difference. Make sure you have the correct nails, screws, and adhesives, as well as sealers, buffer pads, and other necessary products.
Test the Adhesive – Apply a dab of the adhesive to a piece of scrap wood or cardboard and allow it to dry. Once it has dried, try to peel it off. If it peels easily, you need to use another adhesive that is of good quality.
Follow Directions – It may be tempting to skip over certain steps when installing hardwood flooring, but this can lead to problems in the long run. Make sure you read and follow the directions carefully to get the best results.
Inspect – Once the installation is complete, inspect the entire area to make sure everything is laid properly.
Maintenance Tips For Hardwood Flooring: Keeping Your Home Remodel Looking Its Best
An essential part of any home remodel, hardwood flooring can be a great addition to both keep your home in great condition, as well as add a touch of elegance and class. But, it's important to remember that hardwood flooring does require some regular maintenance to keep it looking its best. So here are 7 tips for maintaining your hardwood flooring.
Regular Vacuuming – Keeping your hardwood floors free of dirt and dust is key to ensuring they maintain their luster. Vacuuming regularly will help keep your floors looking great.
Mopping – When it comes to mopping hardwood floors, you want to use a cleaner specifically designed for wood floors. This will help make sure that the cleaner won't damage the wood.
Protecting Your Floor – Use area rugs or furniture pads on the legs of your furniture to protect your floor from scratches.
Avoid Excessive Water – When it comes to cleaning hardwood floors, avoid using too much water as this can lead to warping and damage over time.
Refinishing – If your hardwood floor has become scratched or worn, refinishing can help restore its original beauty.
Non-Slip Solutions – Slippery floors can be a major hazard in any home, so applying a product with a non‑slip finish is a great way to guard against slips and falls.
Professional Cleaning – Professional hardwood floor cleaning can go a long way in keeping your floors looking their best.
Is Hardwood Flooring The Right Choice For Your Home Remodel?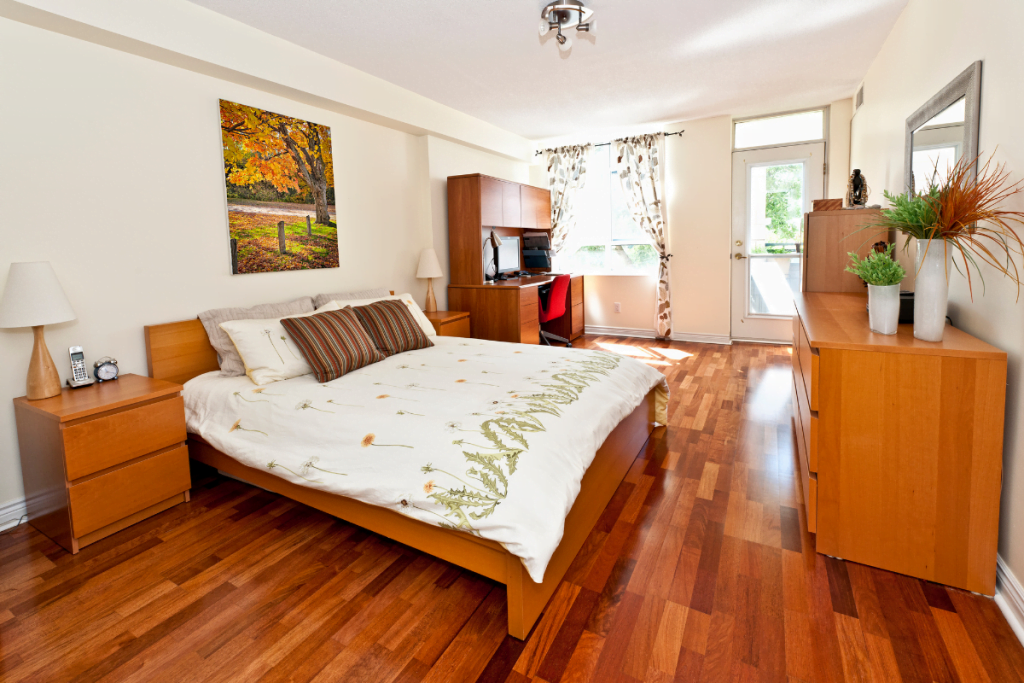 Having a beautiful and inviting home starts with having the right flooring. And hardwood flooring can be a wonderful addition to any home remodel, as it offers a timeless and classic appeal that can transform your living space and be enjoyed for many years to come.
At CIB Home Remodeling, we are committed to helping you find the perfect hardwood flooring for your home remodel. Not only can we provide you with hardwood flooring options, but we also specialize in installing them for a finished look that meets the highest standards of quality and craftsmanship. So if you want to remodel your home, send us your project details, and let us get your project started!