Are you living in a cramped, outdated bathroom and looking for ways to upgrade it? With limited space, it can be hard to find the perfect balance of functionality and style when it comes to a small bathroom remodel. Thankfully, you don't have to give up on the idea of a beautiful, modern bathroom just because you have limited square footage.
In this article, we'll explore ten amazing small bathroom remodel ideas that will help you to transform your cramped bathroom into a stylish, functional oasis. Whether you're looking for ways to maximize storage or add some eye-catching decor, these tips will help you make the most of your small space. So, let's get started!
Small Bathroom Remodel Ideas
How To Maximize Storage With These Small Bathroom Remodel Ideas?
Small bathrooms can be challenging due to the lack of space, but with the right small bathroom remodel ideas, you can make the most of what you have. When planning your remodel, think about clever storage solutions that can both maximize storage and add a stylish touch.
Wall-mounted shelves and cabinets can free up floor space while adding a decorative touch.
Consider investing in a vanity with enough storage to keep your bathroom organized and clutter-free.
Adding pull-out storage drawers and shelving behind the door can also help you make the most of your small bathroom. A pull-out drawer can utilize the vertical space in the shower, while shelving behind the door can hold all of your extra toiletries.
Consider incorporating a few design elements to make your bathroom look larger. Adding mirrors or glass, for example, can make your bathroom look bigger, as can incorporating lighter colors and textures.
If you'd like, you can also add a few plants for a pop of color and an airy feel.
By repurposing existing space and implementing creative storage solutions, you can make a big impact on the look and feel of your bathroom.
Add Open Shelves
To maximize storage even further in your small bathroom remodel, consider adding floating shelves and open shelving. Floating shelves are perfect for extra toiletries, while open shelving can provide a space to store towels and other items. Adding these two elements can make a huge difference in maximizing storage and making your space look larger and more organized. You can also use the shelves to add some dramatic flair to your bathroom by having fun with accessories, such as plants or colorful baskets. With these clever small bathroom remodel ideas, you can easily make the most of the space you have.
Use Neutral Colors
When selecting paint and tile for your small bathroom remodel, go for light, neutral colors. Lighter colors make the room feel more spacious, making the space look bigger. If neutral colors aren't your style, opt for pale pastels that will still give the illusion of a larger space. You could also incorporate bolder colors as accents for a more unique look. And when it comes to tiles, consider using larger tiles or mosaics to further give the impression of a larger space. By utilizing these small bathroom remodel ideas, you can create a stunning bathroom that looks bigger and brighter than ever before.
Here are examples of paint colors that will make small bathrooms feel bigger.
Install a Corner Sink
To further maximize the space in your small bathroom, try installing a corner sink. Corner sinks take up much less space than a traditional sink, leaving plenty of room for other important items in your bathroom. By adding shelves above and around the corner sink, you can instantly broaden the look of your bathroom, from cramped and small to aesthetic and spacious.
Update Your Lighting
Poor lighting can make the smallest bathroom feel even smaller. To give your bathroom a bright, airy feel, try installing new lighting fixtures that bring the most out of the space. Instead of one large overhead light, opt for multiple fixtures around the room. Consider adding a sconce to the walls or vanity mirrors with built-in lighting, as well. These small touches can have a huge impact on your bathroom's atmosphere. By following these small bathroom remodel ideas, you will be able to create a modern and inviting bathroom that looks brighter and bigger than ever.
Hang a Statement Mirror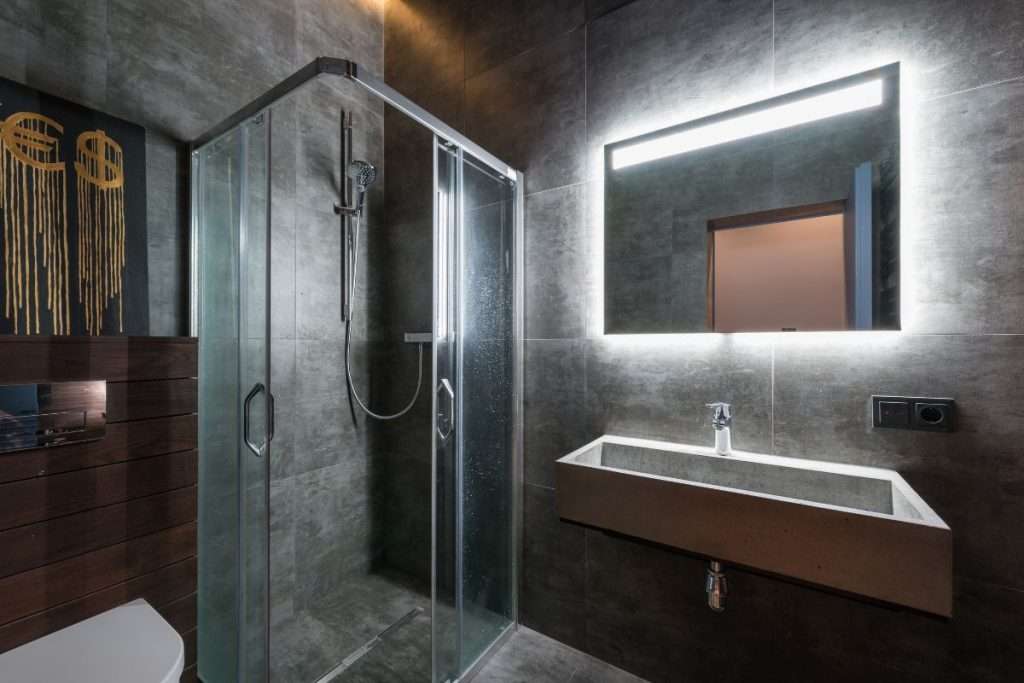 Adding a statement mirror to your bathroom is a great way to enlarge the space and create an eye-catching focal point. Try using a statement mirror with a dramatic frame that adds texture and will draw the eye's attention to it. The mirror will reflect the light that comes from the fixtures in the room and make the space appear larger. You can even install extra vanity lights around the mirror to brighten up the bathroom and give it a luxurious look. With a statement piece like this, you can make your small bathroom look both modern and inviting.
Here's how to hang frameless mirrors.
Install a Wall-Mounted Toilet
Another way to make your small bathroom look bigger is to install a wall-mounted toilet. This will free up plenty of floor space, as well as provide a modern look. If you have the space and budget, you can also include a storage unit above the toilet. This can be used for towels, toilet paper, and any other essentials. Wall-mounted toilets are also more hygienic and easier to clean than floor models. By installing a wall-mounted toilet, you can transform your small bathroom without sacrificing the style.
Add a Glass Shower Door
To complete the look, adding a glass shower door will not only add a sense of modern flair to your bathroom but also make it appear bigger. You can find a variety of glass shower door designs to fit the style of your remodeled small bathroom. The glass shower doors will let natural light flow into the bathroom and make the area look larger. Plus, they are easy to clean, so you can keep your bathroom looking its best all the time. With the addition of a glass shower door, your small bathroom remodel can be both stylish and functional.
Consider an Oriental Rug
For those looking to add an extra touch of luxury to their small bathroom remodel, an oriental rug can be an excellent addition. A rug can be used to define the different areas of your bathroom, making the space appear larger and more inviting. Plus, an oriental rug can add a unique touch of style and sophistication to the area. Whether you choose to go with a tapestry-style rug or an area rug with ornate designs, investing in a luxurious rug for your small bathroom remodel can be an effective finishing touch.
Add a Touch of Greenery
Finally, if you're looking to add a natural touch to your small bathroom remodel, consider adding some greenery. Plants, flowers, or even a small desk top garden can be the perfect way to brighten up your space, making it look and feel larger. Plus, plants can also help to purify and clean the air in your bathroom, creating a healthier environment for your family. With just a few simple additions, your small bathroom remodel can be transformed into a place of calming beauty and peacefulness.
Wrapping Up Your Small Bathroom Remodel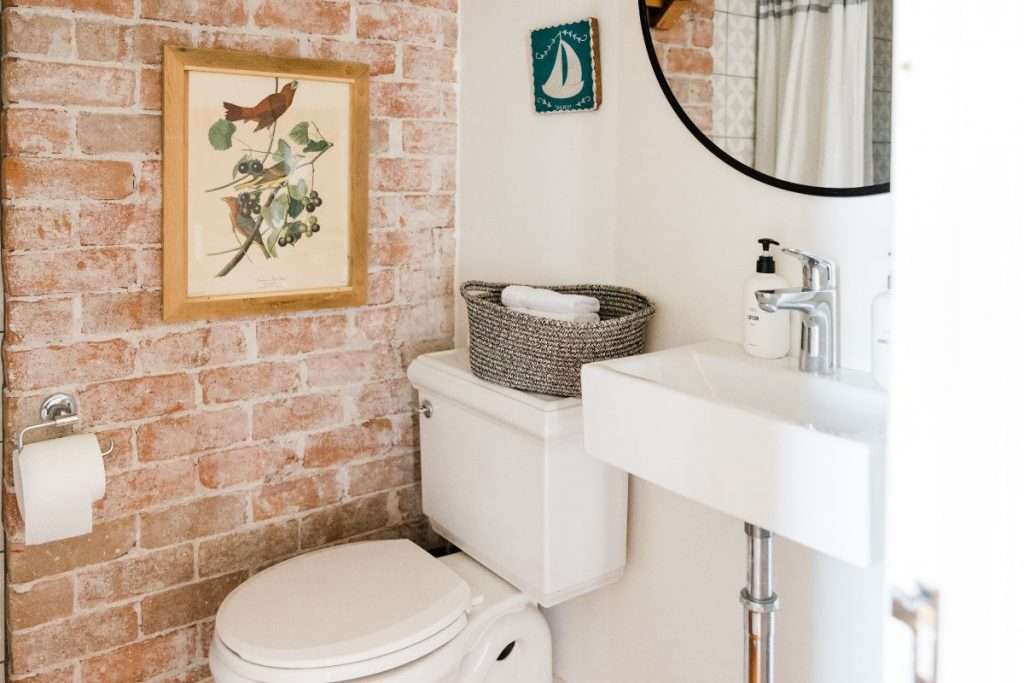 The bathroom is often one of the most important rooms in a home, so it is no surprise that small bathroom remodel ideas are high on the list for many homeowners. From refreshing the layout to adding new fixtures and accessories, there are plenty of ways to transform your bathroom into a more stylish, practical, and enjoyable space. And with these ten amazing small bathroom remodel ideas to choose from, you can easily create a beautiful, functional, and affordable small bathroom. Whether you opt for a classic look or something more modern, these ideas will help you make the most of your space and create a stunning look that you can enjoy for years to come. So go ahead and start transforming your small bathroom today!
With the right small bathroom remodel ideas, you can create a stunningly beautiful and relaxing bathroom space. At CIB Home Remodeling, our experienced team of professionals can help you determine which design elements will best suit your needs. We strive to ensure that every element of your remodel is in keeping with your desired aesthetic, from the tile work to the cabinetry and more. With our commitment to excellence, you can rest assured that your small bathroom remodel will be completed to perfection. Contact our team of experts today and let's get your remodeling project started!