You have a small kitchen but you are looking for a creative way to maximize it? If lack of space limits your creativity in the kitchen, you're not alone. For many of us, small kitchen layouts seem to be a problem. But that doesn't mean you can't create a gorgeous and comfortable cooking space. With the right layout, you can make the most of your small kitchen and unleash your inner chef.
So if you're looking to create an optimal small kitchen design and bring your culinary dreams to life, look no further! We'll be discussing five creative layouts to help maximize your space. With these ideas, you'll be able to create a beautiful and functional cooking area that you'll love — no matter how much room you have. So get ready to learn about all the exciting options that exist for small kitchen layouts.
Design A Very Small Kitchen With These Layouts
The U-Shaped Kitchen Layout
The U-shaped kitchen layout offers many advantages when making use of limited space in a small kitchen. This layout allows for easy access to all three sides of the kitchen and provides ample countertop and storage space while making efficient use of the room. Here are five creative small kitchen layouts that make the most of the U-shaped design:
Wall-Mounted Shelves: Use wall-mounted shelves to store your kitchen tools and ingredients in an organized fashion. Wall-mounted shelves can provide extra countertop space, while keeping the shelves out of the way, making the most of your kitchen's limited space.
Under-Counter Drawers: Utilize the space under the counter to add extra countertop space and storage. Installing drawers will help keep all of your kitchen items organized and easily accessible.
Corner Cabinets: Corner cabinets are an excellent use of space in small kitchen layouts. These cabinets can provide storage and countertop space in a place that is often underutilized in other kitchen layouts.
Pull-Out Pantry: If you have sufficient space in the U-shaped layout, consider adding a pull-out pantry. This will provide extra storage and a great way to store all your food while keeping it organized.
Island: If you have enough room, consider adding an island to your U-shaped kitchen. Islands provide extra countertops, storage space, and extra seating for guests.
The L-Shaped Kitchen Layout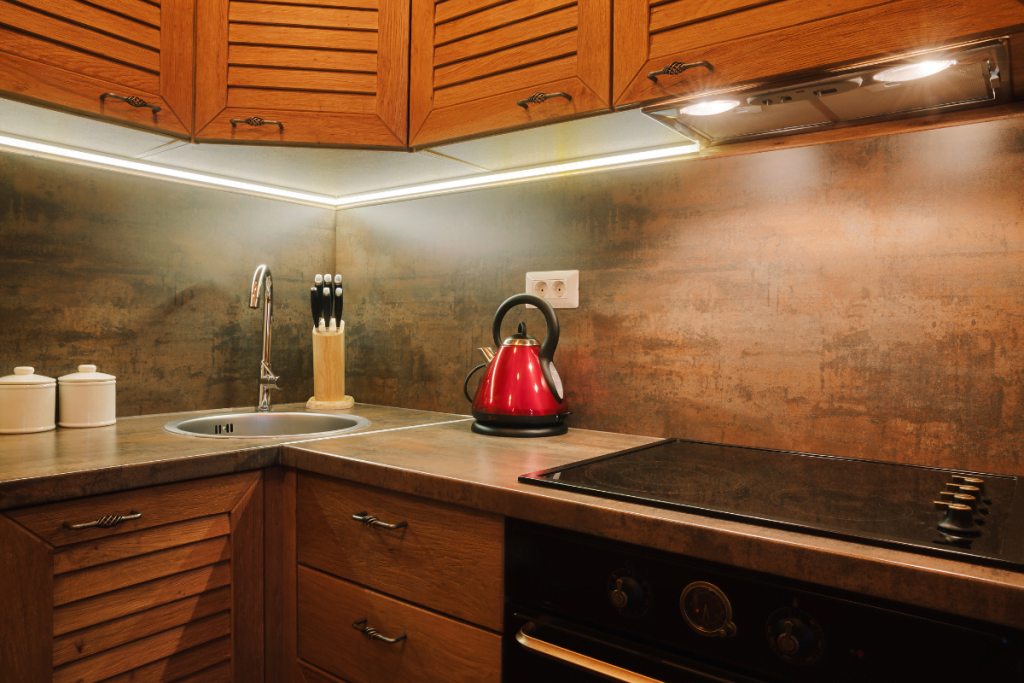 The L-shaped kitchen layout is a classic and timeless design that is perfect for small kitchens. It provides plenty of counter space, storage, and an efficient work triangle. Here are some tips on how to make the most out of this small kitchen layout:
Create a Clear Triangle: The L-shaped kitchen layout creates a natural work triangle, meaning that the stove, sink, and fridge should all be in close proximity for optimal cooking. Keep the island, counter, and walls all organized so that the triangle is easy to navigate.
Maximize Storage: With the L-shaped kitchen, you can create extra storage with shelves, cabinets, and drawers to make it easier to store kitchen items. Make sure to use vertical space such as tall cabinets and hanging pot racks.
Maximize Counter Space: Countertops are essential in any kitchen, and the L-shaped layout allows you to create extra counter space in a small kitchen. Choose a long counter that's wide enough to fit all of your kitchen appliances.
Add an Island: An island is a great way to add extra storage and counter space, as well as create a focal point in the kitchen. Opt for a movable island to give you the flexibility to move it around the kitchen as needed.
Utilize Light: Natural light is a great way to make a small kitchen feel bigger and brighter. Opt for large windows and add task lighting to ensure that the kitchen is well-lit.
The Parallel Kitchen Layout
The parallel kitchen layout is one of the most efficient small kitchen layouts available. It is a great way to maximize your kitchen space and make your kitchen feel larger than it is. This layout consists of two walls of parallel counters, cabinets, and appliances, with aisles in between.
The key to successfully using the parallel kitchen layout is to make sure that you use the space efficiently. Here are five creative ways to do just that:
Keep the Counters Open: To maximize the space in your kitchen, keep the counters open so that you can reach them easily. Opt for open shelves and cabinet organizers to store items and make the most of the space.
Make Use of Wall Space: Make use of any available wall space to hang utensils, pots and pans, and other kitchen items. This will free up counter space and provide more storage options.
Consider a Peninsula: A peninsula allows you to extend your counter space and create more room for meal preparation. It also provides additional seating for meals and conversation.
Add Open Shelving: Open shelving is a great way to add additional storage without taking up valuable floor space. Install floating shelves or open cabinets to store items such as spices, baking supplies, and cookbooks.
Install a Kitchen Island: A kitchen island is an effective way to create additional counter space and storage options. This can also be used as a place to sit and have meals or socialize with family and friends.
The Island Kitchen Layout
The Island Kitchen Layout is one of the most popular small kitchen layouts, with its versatile and flexible design. This layout is ideal for kitchens with limited space, as it allows you to make the most of your area. Here are five creative ways to maximize your space with an island kitchen layout:
Create a Multi-Purpose Island: An island can be used for many activities, such as cooking, preparing meals, eating, and even storage. With a multi-purpose island, you can have an all-in-one kitchen solution. Place shelves or drawers within the island for additional storage, and add a sink to make food preparation a breeze.
Maximize Your Counter Space: A single island can provide a great deal of counter space, allowing you to make the most of your kitchen area. Consider adding a breakfast bar or countertop seating to one side of the island to create an efficient workspace.
Utilize the Space Underneath: Underneath the island, you can add extra storage and shelves for items like cookware, dishware, and other kitchen essentials. This will allow you to store items out of sight, which can help to keep your kitchen looking organized and tidy.
Include a Table: When you have an island kitchen layout, you can choose to add a table to the side or end of the island. This is great for informal meals or quick snacks.
Make It Mobile: For maximum flexibility, consider a mobile kitchen island. This allows you to move your island around the kitchen as needed, creating the perfect solution for small kitchens.
The Galley Kitchen Layout
The galley kitchen layout is one of the most popular and efficient small kitchen layouts. It is known for being narrow and long, usually with two parallel walls of cabinets, countertops, and appliances. It's a great layout for maximizing the space in small kitchens as it gives you plenty of room for storage and counter space.
Here are five creative ways to make the most of a galley kitchen layout:
Utilize Upper Cabinets: By utilizing upper cabinets, you can easily add storage space and extra counter space. If you don't have enough room for an additional countertop, you can use the area underneath the upper cabinets as a prep area.
Add an Island: If you want to create more counter space, adding an island is a great way to make the most of your galley kitchen. Islands come in a variety of sizes and styles, making them an ideal option for any small kitchen layout.
Utilize Open Shelving: Open shelving is a great way to add additional storage without taking up too much space. Open shelving is also a great way to add visual interest to a kitchen, as it can be styled with a variety of accessories.
Hang Pots and Pans: Hanging pots and pans is a great way to free up cabinet space and add visual interest to the kitchen. It's also a great way to add a unique touch to your galley kitchen layout.
Use Color: If your galley kitchen feels too small or cramped, adding color can help make it feel larger and more inviting. You can use color to highlight certain elements in the kitchen such as the cabinets, appliances, and countertops.
Conclusion On Utilizing Small Kitchen Layouts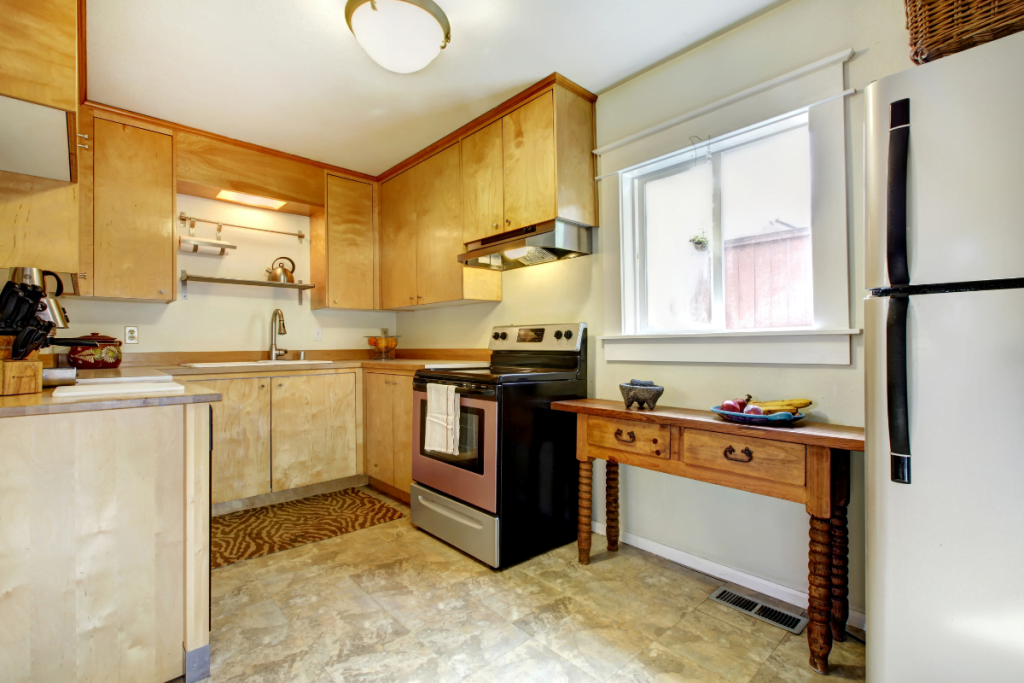 If you're living in a small home, it can be hard to make the most of the space you have in your kitchen. Fortunately, there are several creative small kitchen layouts you can use to maximize your small kitchen space. You can try anything from adding an island to rearranging the entire layout.
At CIB Home Remodeling, we understand how important it is to optimize small kitchen layouts for maximum impact. The kitchen is an essential part of the home and it's necessary to make the most of the space it has. Regardless if you are remodeling or are starting from scratch in a new home, with the right layout, you can make the most of the small space that you have.
Whether you're looking to add an island or rearrange the existing layout, CIB Home Remodeling can help you maximize your small kitchen layouts. With years of experience in remodeling services, we can help you create a functional and stylish kitchen. Send us your small kitchen project details and learn more about how we can help you make the most of your small kitchen space.